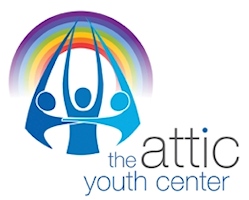 Don't be fooled by it's title, the Attic Youth Center, offers so much more than just a place for LGBTQIA+ youth to hang out.  I even love the backstory of this place.  It was originally started as an eight-week program, by two graduate students back in 1993.  Hosted in the attic of a building, the kids wouldn't let it end.  Since that time, it has grown to being a significant resource for area youth.
I think what I love about it the most is that the heart of this organization is to help kids to grow as citizens who are engaged in the world around them and have a voice.  So, not only are there support groups, counseling, case management, healthy choices education, and life skills opportunities, the kids work on community projects together with opportunities for leadership roles.  Plus, the website has inspirational stories and lists of resources.
And, as if that's not enough, the Bryson Institute offers various trainings regarding current "best practices" for working with LGBTQIA+ youth.  You can contact them, explain the intended audience and needs, and they can customize a training for your organization.  Clearly, this organization is worth checking out!