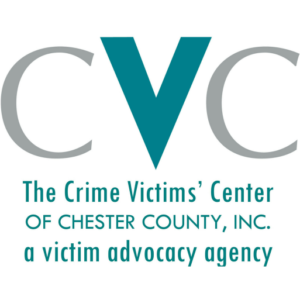 The Crime Victims' Center of Chester County, Inc. provides free and confidential services to victims and their family members/significant others who reside in or were victimized in Chester County, Pennsylvania.  They make the cold and unwelcome world of the court system feel knowable and as effective as possible by practically, and sometimes literally, holding your hand every step of the way.  Additionally, free counseling and even money towards expenses that have resulted from being a victim are also available.
Since I originally wrote this post, I have now had personal experience with this organization and I can't say enough good things about them.  If you are the victim of a crime, they should be the second place, that you call, after the police/FBI. Even if you are unsure or don't want to formally report your the crime to the authorities, CVC is there for you, 24-hours/day.
CVC, also known as the Rape Crisis Council of Chester County, Inc., is the designated Sexual Assault Center for Chester County. CVC provides services to victims of all types of crime and violence including, but not limited to: rape, sexual assault, incest, sexual harassment, child abuse, elder abuse, homicide, assault, robbery, identity theft, drunk driving, stalking, and bullying.
Tip: If you don't live in Chester County, your county will have a crime victims' center too, but perhaps by a different name.  A quick Google search should be able to help you locate the one in your area.
Relaxation breathing is the antidote to panic.  Literally.  It is impossible to be truly breathing in a relaxed way and to be experiencing a full-blown panic attack at the same time.  This is because relaxation breathing helps to reset our body chemistry to a "normal" state and bring it out of panic.  If you haven't read it yet, the previous article in this series, Panic Attacks Part 1: What is Panic & Why We Need It, you might want to check it out.
Some people may tell you that there is a "right way" to do relaxation breathing. In my opinion, if you try the "right way" and you find it to be really annoying and just plain won't do it, then clearly that is not the right way for you. Generally, the recommendation is that you are breathing out for a longer count than you are breathing in and that you are taking in air by expanding your belly muscles, not your chest muscles.
My recommendation is that you find something that feels comfortable for you and go with that approach.  No matter which approach you choose, the most important thing is that you practice relaxation breathing every day when you are already calm. I cannot stress this point enough. When your body is in panic mode, learning a new skill is not something that your brain is going to be very good at. So if you're heading into a panic attack and you haven't been practicing your relaxation breathing, don't be surprised if it doesn't work to help you return to calm…yet.
Regardless of the breathing technique that you decide to use, I recommend that you practice your relaxation breathing during a time that you are already relatively calm and relaxed, for five minutes at a time, a minimum of 1-2 times every day, with one of those times being at night when you are lying down to fall asleep.  The main goal is to be able to clear your mind of all thought and just focus on the sensation of your breath going in and out of your body.  Or, you can add some sort of positive phrase that you can repeat to yourself if it helps.  (For example: "Breathe in calm.  Breathe out fear," but it could be anything so long as you interpret it as positive and relaxing.)
Below is a video that describes square breathing and then, below that, a few other informational links.  The video is geared towards kids but you can use whatever imagery you like, and, who doesn't enjoy the smell of fresh baked cookies??  (You'll understand that last comment when you watch the video.)


Additional Breathing Information:
Another take on square breathing, including a printable that you can download and customize.
Diaphragmatic breathing, also known as "belly breathing," which can be blended with square breathing if you'd like.
If you have a smart phone, there are also plenty of free apps that you can download to help coach you through relaxation breathing.  Here are two that I've had experience with:
Breathe2Relax – availabe on iPhone and Android (I recommend adjusting the default settings to what is comfortable for you.)
Centered – available on iPhone only 🙁
Remaining articles in this series:

Cognitive Behavioral Therapy (CBT) is based on the premise that our thoughts, emotions, and behavior are all interrelated and affect one another.  Because of this, if we learn to identify when we are having "thought errors" that distort our perception of reality, often skewing to seeing things in more a negative light, we can then Dr. David Burns is a well known researcher, clinician, and public speaker.  He is one of the leaders in the development of CBT, having been trained personally by CBT's founder, the world-renowned Aaron T. Beck, MD.  In this short video, Dr. Burns uses stories from his life experience both as a clinician and as a person, to illustrate the power of CBT and how working to change our thoughts, in a real and genuine way, can have a profoundly positive effect on how we feel.  CBT has become the strongest (most likely to succeed), "evidence-based" form of therapy for issues such as depression and Bipolar Disorder, various forms of anxiety (PTSD, phobias, Obsessive-Compulsive Disorder), eating disorders, and substance use disorders.  This means that scientific research has been able to document that CBT really works for people.