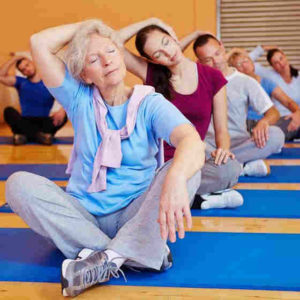 Yoga is good for the body AND the mind. In addition to the obvious health benefits of regular exercise, a good yoga instructor creates an environment that promotes:
A sense of serenity and acceptance for who you are in the moment.
Guidance for how you can recognize when your "monkey mind" is swinging from thought to thought with the worries of the day and gently turn your attention back to the present moment and the feeling of your nourishing breath
Feeling comfortable in your own skin.
Increasing confidence as your strength and flexibility grows.
There is a TON of research that strongly supports using yoga to assist with the treatment of: anxiety (including Post Traumatic Stress Disorder); depression; ADHD; sleep problems; substance abuse, anger issues, and schizophrenia (when done in conjunction with medication).  It's an activity that can be modified for people of any age, from 2 to 102, and you can take with you anywhere you go! There are even some instructors that have training in both mental health therapy and yoga and can customize the work to really target anxiety and trauma specifically, teaching you how to be comfortable in your own body again.
Personally, my ability to use relaxation breathing as a skill in my daily life has never left me, even though I haven't done a class for almost 10 years.  One day, when my life gets a bit simpler, I fully intend to return to the benefits of a more regular, devoted yoga practice.  In the meantime, I remind myself the words of wisdom of one of my former instructors, "Even one sun salutation is a yoga practice."